Enable Your Message to Be Heard Clearly
We supply speech and music tannoy systems which achieve even coverage and reliable transmission of your announcement or chosen playlist.
Background Music Systems
Music plays a key role in the experience of your patrons. We design systems which ensure every one of your customers experience a powerful atmosphere filled with joy and laughter.
Out team consider aesthetic considerations and plan customer experience throughout a space. If you want louder music at the bar and quieter among your tables, this is possible or music that sounds light and distant in your lobby but full and warm inside your doors we deliver perfection.
High Fidelity Audio
Discrete Loudspeaker Placement
Automatic Volume Control
Announcement Tannoy Systems
For a system to be useful, it must be easy to use. A clear and intelligible public address system is essential no matter what the content. Our team design modern digital paging systems using the latest technologies.
We design systems on a room by room basis to meet your needs. Local audio inputs allow integration of your music playback systems in classrooms and gyms into the public-address system to ensure announcements are always audible.
Consistent Coverage
Robust Hardware
Simple Operation
Multi-Zone Control Systems
Modern, intelligent, loudspeaker systems are commonplace in commercial settings. Ensuring systems perform consistently and flawlessly is achieved through smart programming and comprehensive monitoring of hardware.
We deploy advanced multi-zone audio systems using a mix of 100V line, low-impedance and Audio over IP solutions to suit your requirements. Our engineers carefully tune individual zones in every system to ensure that requirements for speech intelligibility, coverage and tonality are met.
Digital Signal Processing
User Friendly Interfaces
Full Logging and Reporting
Telephone System Integration
Flexible telecom systems are already deployed throughout your environment. Public address system integration maximises the potential of your investment and ensures that a paging station is available at every desk.
We supply systems which feature an intelligent user interface using interactive voice recordings. Your users can control playback of announcements per zone trigger pre-recorded announcements and record a live announcement for playback all from your existing analogue or digital telecom system.
SIP, PABX and POTS Integration
Live and Pre-Recorded Announcements
Multi-Zone Selection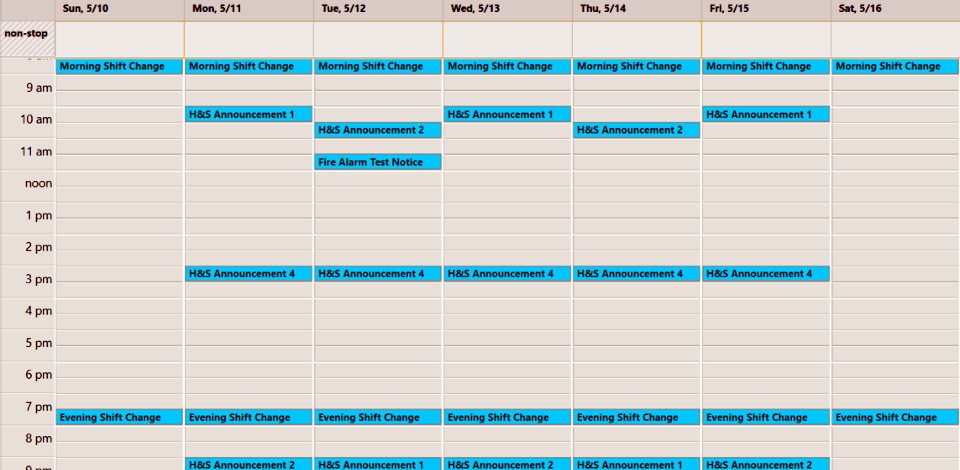 Automated Announcement Playback
Integrate modern building principles into your announcement systems. We install systems which allow you to schedule announcements in the same way you schedule other building functions. Our team work with you to understand the best optimisations for your spaces.
Systems can be configured to make announcements when people enter a controlled space or stairwell, at the start and end of shift or regularly to remind people of their H&S obligations. We integrate with fire alarm systems to ensure automatic muting of announcements when an alarm is triggered.
Scheduled Announcements
Motion Detection Playback
Fire Alarm Integration
Streaming Audio Players
No music system is complete without a high quality audio source. We supply the Yamaha MusicCast platform which empowers you to provide high quality music in your spaces. Playback from major streaming platforms, on-site network storage or internet radio. Integrated Phono pre-amps allow for boutique vinyl playback to multiple zones in the system.
Controlled from an intuitive app or a larger control system. MusicCast delivers reliable, robust audio streaming capabilities throughout your premises.
Major Streaming Platforms
Internet Radio
Intuitive App Control
Bluetooth & Airplay2 Integration
Flexible PA and Music Systems
We work in spaces of all sizes and deliver the correct music or public-address system for the unique needs of your space.
Our team consider your requirements and specify the correct system to suit. We deploy traditional 100V line systems offering excellent value for money for speech announcements. Multi-Zone low-impedance systems offer supreme audio fidelity and tonality. Audio over IP systems deliver excellent flexibility and the ability to dynamically re-assign speaker zones on the fly as your layout changes.
We integrate with 3rd party systems to ensure a cohesive platform for building management.