Take The Complexity Out Of Fully Featured Rooms
We deploy sophisticated, integrated AV system room solutions which improve user satisfaction and system utilisation.
Crestron Control Solutions
We program, install and commission end-to-end integrated control systems featuring intuitive user interfaces and robust programming logic. Our certified Crestron system designers and programmers create the perfect control solution for your spaces.
Crestron control systems are unrivalled for their flexibility, security and long-term value.
Certified In-House Programmers
Modern, Dynamic Interface Design
Unlimited Control Possibilities
Fully Integrated, Unified Control Solutions
Discrete Audio Reinforcement
Our expertise in audio is central to every system we design. Good audio is the key aspect of a good meeting experience. We design end-to-end audio systems to capture and reproduce every utterance in your meeting for amplification and recording.
We use top brand equipment, cleverly setup and tuned to optimise the space.
Discussion Microphone & Voting Systems
Encrypted Wireless Lapel & Handheld Mics
Distributed Loudspeaker Systems
Intelligent Automated Digital Signal Processing
4K Digital Media Distribution
We design modern, high resolution, encrypted digital video systems to display your content throughout your facilities. All systems are fully 4K capable as standard and incorporate content protection and format management.
Commercial grade displays, stylish media input plates and wireless content sharing completes a high quality digital media offering.
4K60 4:4:4 Video Distribution
Commercial Large Format Displays
Wireless Content Sharing
AVoIP Distribution Systems
Zero Touch System Control
Improve space utilisation whilst decreasing contamination risk. Users can present in a space without any physical contact. Automated presence detection powers up your display. Wireless device streaming avoids handling cables and signal presence detection changes input automatically.
Advanced automation is available with integration into a room scheduling platform and voice control systems. Start and end video conference calls automatically, adjust the lighting, shades and HVAC all with a swift voice command.
Voice Control
Occupancy Sensing
Signal Presence Detection
Wireless Content Streaming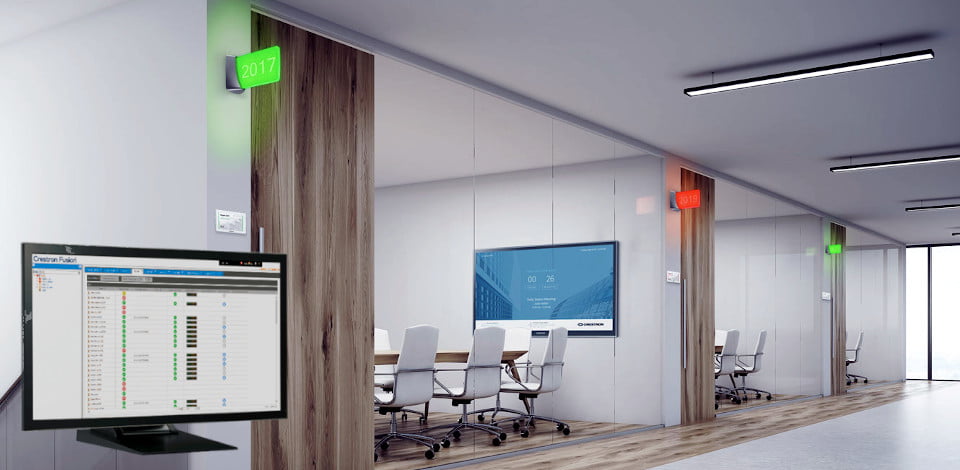 Room Booking & Monitoring
Utilise your investments to their full potential. Using room booking, monitoring and AV helpdesk software allows you to maximise uptime and reduce service calls. Detailed reporting allows you to monitor system health, user habits and room utilisation.
We integrate our AV solutions into on-premise and cloud monitoring, management and reporting software. Remotely view, control and monitor room usage, equipment status & system utilisation. In-built helpdesk tools allow for room and equipment fault management, user-support and integrator assistance from within a single platform.
Room Availability Indicators
Room Use Auditing
Exchange, O365, G-Suite Integration
Environmental Control
Ensuring a cohesive meeting experience is more than just AV. We interface existing room environmental controls and new lighting and shading solutions to enhance the meeting environment. Passive heat management, occupancy based ventilation control and daylight harvesting combine to reduce energy consumption and wear on mechanical systems.
We interface with BACnet, KNX and proprietary building management systems to provide control where needed. Tied in with occupancy detection, booking awareness and utilisation metrics, you're only using energy in a space when it's required.
Lighting, Shades and HVAC Control
Improved Energy Efficiency
Seamless, Automatic Control
Remote Environmental Monitoring
We design AV systems for spaces of all shapes and sizes. Our turnkey huddle space and small meeting room systems are ready to rapidly deploy in a cost effective manner.
Our team works with you to understand your requirements and find a system to suit your needs. Flexible, custom designed AV systems are installed to meet your design objectives.
An AV system starts with just one piece of equipment. Projector, Display, Microphone, Loudspeaker. We cater for phased installations to suit space and budget availability. We understand your end vision for your space and design staged deliveries to suit.
Fusion Remote Monitoring Platform
AV Control Systems integrate disparate technologies into a single controllable system. Crestron Fusion monitoring and scheduling software adds a layer of intelligence to these systems to turn an organization into a high-performance enterprise.
Access the powerful tools you need to maximise your investment; network room scheduling, remote help desk, device monitoring, data collection and reporting.
Crestron Fusion network room scheduling integrates with popular calendaring programs you're already using to improve workflow and room usage.
Connects to Microsoft Exchange, Office 365, Google Calendar and more
Book rooms from scheduling panels outside the room for ad hoc meetings
Clearly see room availability on scheduling panels or room signs from down the hall
Display room calendar on in-room touch screens and even on the room display
Rooms are automatically returned to availability in event of a "no-show"
AV and IT staff get alerts to remotely resolve events quickly to maximize uptime.
Meeting attendees can contact support staff from the touch screen in the room
Support staff can resolve issues during a meeting by remotely taking control of devices in the room
Store and organize all technical documentation by room for quick reference
Real-time alerts allow support staff to proactively manage events, so rooms are fully functional and ready for the next meeting.
Get instant status notifications for any device in any room on the network, then quickly dispatch local support staff to resolve the event
Receive reminders to perform routine maintenance to inventory in event of a "no-show"
Data and reports help optimise your investment in people, spaces, and technology.
Room usage – how often is the room booked? When is it used and for how long? Who is using it?
Room occupancy – was the room occupied when booked? How many people use the room per meeting?
Device usage – how often is the AV or UC system used? Which sources are used? How often is the display used?